2000, 2018
mixed media installation
Why is it easier to find a wavy mirror today than a straight one? Henrike Naumann brings together a contemporary historical archeology of the legacies of postmodernism in Germany. What makes the ubiquity of copied postmodern designs what it is, and why is it so common in German everyday life? What social effects did the post-1990 postmodern construction boom have on the lives of people in what was once socialist East Germany? Is it possible to radicalize yourself through furniture? And what was that about the Expo 2000 in Hanover, the one whose senior organizer—former President of the Treuhand Agency—had been tasked with reprivatizing East German enterprises just a few years before?
Naumann takes the millenium changeover year as a starting point for a look at the 1990s in East and West Germany and the after-effects of postmodern design on German society. Based on her reflections, the Abteiberg Museum's large, temporary exhibition space is transformed into a curious "German Pavilion"—an excavation site in which the ruins of postmodernism and German unification are exposed. The exhibition occupies the space between museum, trade fair stand, concept store, living room and ruin.
Expo 2000 and Terror 2000, Treuhand and Love Parade, former Chancellor Gerhard Schröder and techno DJ Dr. Motte, Generation Golf and German furniture retailer Möbel Höffner—it's a German-German pavilion filled with objects and pieces of furniture selected subjectively and emotionally: from the artist's archive, Exposeeum in Hanover and the living rooms of Mönchengladbach. Her video works, produced using both analogue and digital video formats, lie in the room like rubble from a near past, the antique clay fragments of our time.
Warum ist es heute einfacher, einen gewellten Spiegel zu finden als einen geraden? Henrike Naumann legt eine zeitgeschichtliche Archäologie der Hinterlassenschaften der Postmoderne in Deutschland frei. Was macht die Allgegenwärtigkeit postmodernen Designs in Kopie der Kopie im Alltag mit den Deutschen? Welche gesellschaftlichen Auswirkungen hatte der postmoderne Bauboom ab 1990 für das Leben der Menschen in der ehemaligen DDR? Kann man sich durch Möbel radikalisieren? Und wie war das gleich noch mit der Expo 2000 in Hannover, deren Chefin wenige Jahre zuvor als Treuhand-Präsidentin die Abwicklung der Ostbetriebe verantwortete?
Naumann nimmt das Milleniumsjahr als Ausgangspunkt für eine Betrachtung der 1990er Jahre in Ost- und Westdeutschland und der Nachwirkungen postmodernen Designs auf die deutsche Gesellschaft. Basierend auf ihren Überlegungen verwandelt sich die Große Wechselausstellung des Museums Abteiberg in einen sonderbaren 'Deutschen Pavillon', eine Grabungsstätte, in der die Trümmer der Postmoderne und der Deutschen Einheit versammelt sind. Die Ausstellung bewegt sich zwischen Museum, Messestand, Concept Store, Wohnzimmer und Ruine.
Expo 2000 und Terror 2000, Treuhand und Love Parade, Gerhard Schröder und Dr. Motte, Generation Golf und Möbel Höffner – ein deutsch-deutscher Pavillon gefüllt mit Objekten und Möbelstücken, subjektiv und emotional ausgewählt: aus dem Archiv der Künstlerin, aus dem Exposeeum Hannover und aus Mönchengladbachs Wohnzimmern. Ihre Videoarbeiten, die auf analogen wie digitalen Videoformaten entstehen, liegen im Raum wie Trümmer aus einer nahen Vergangenheit, die antiken Tonscherben unserer Zeit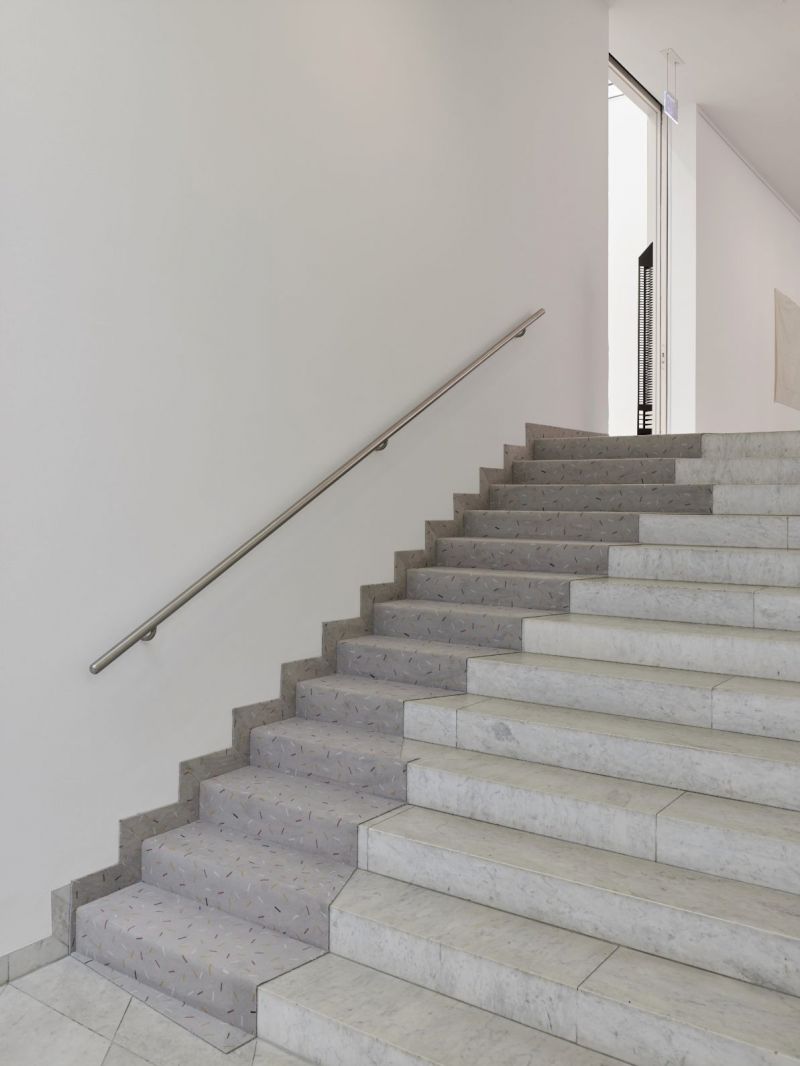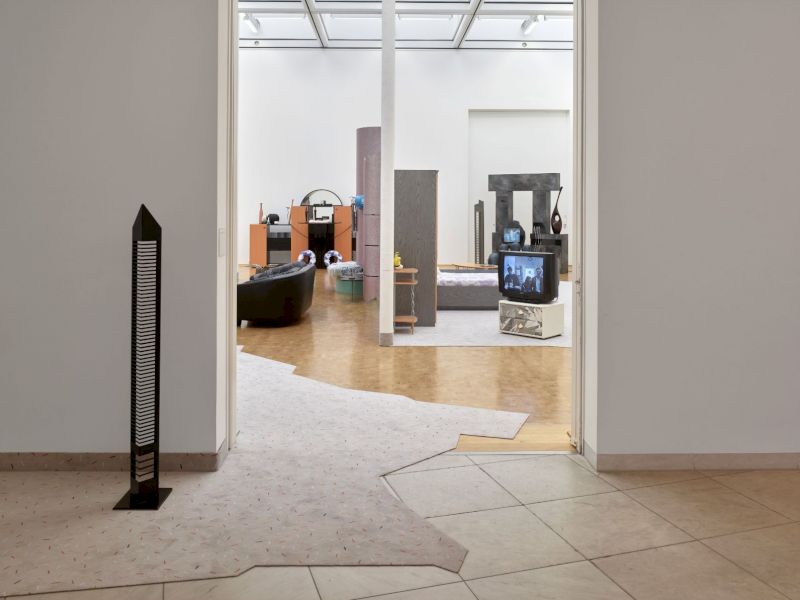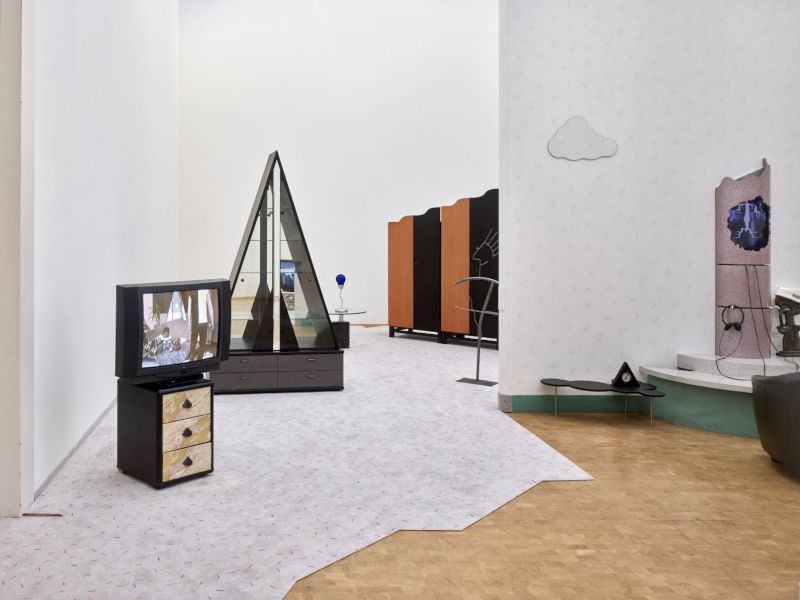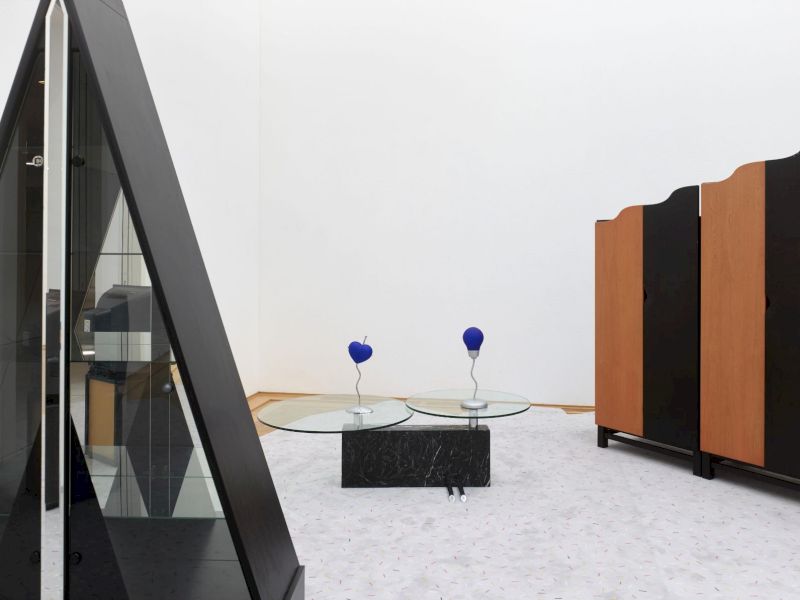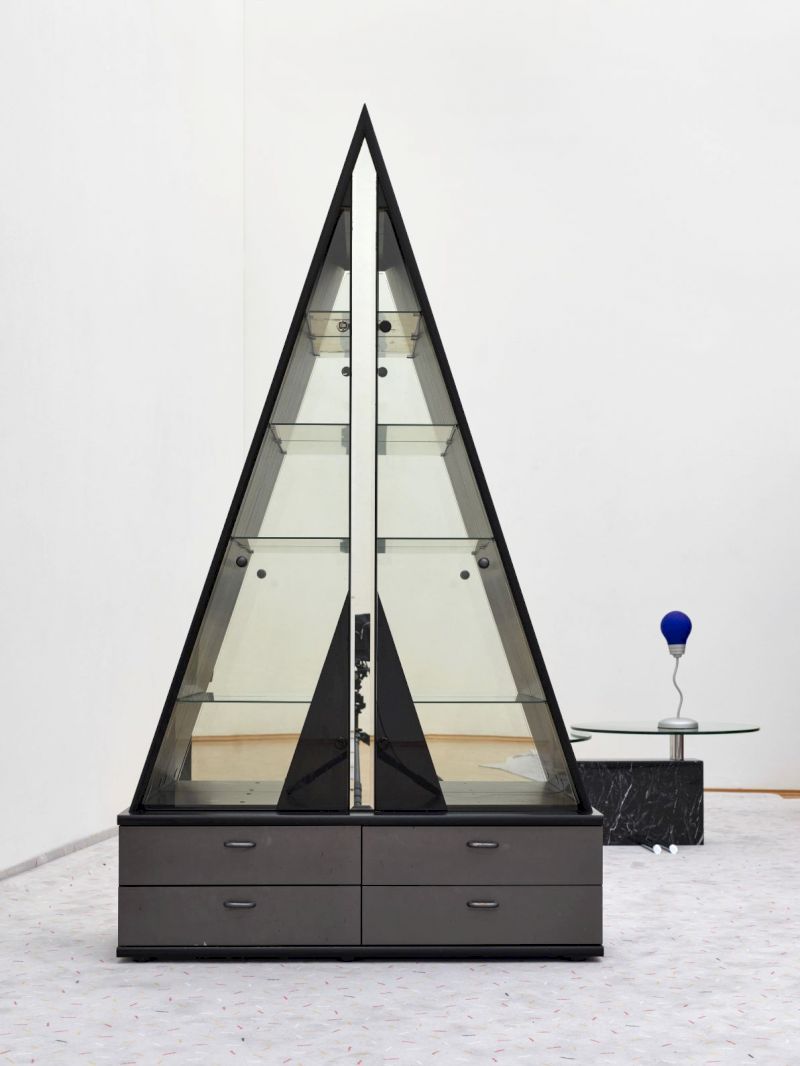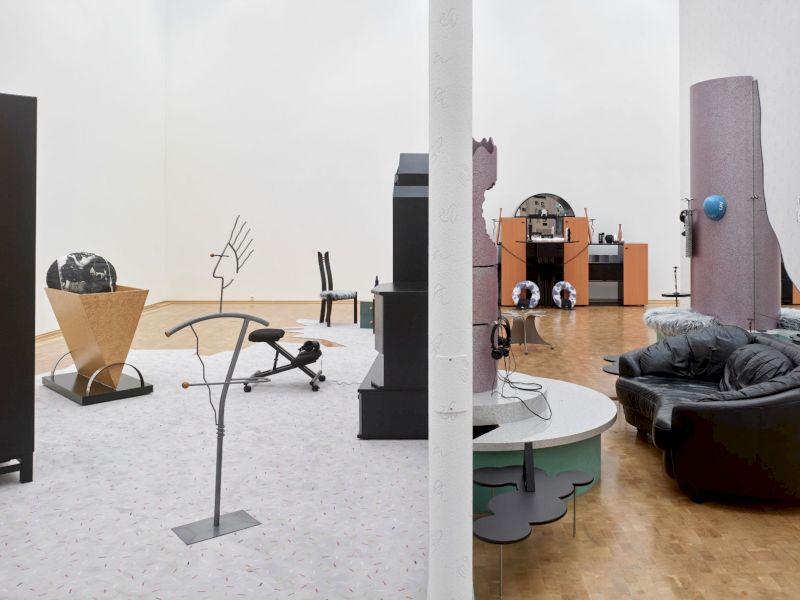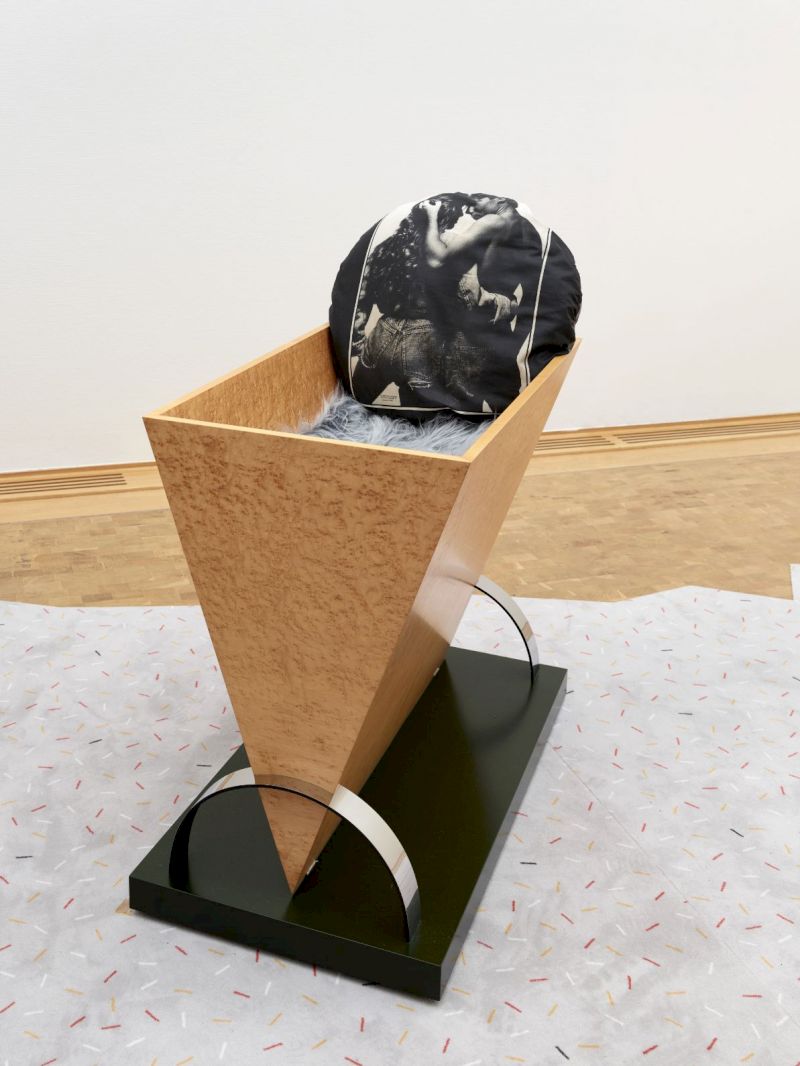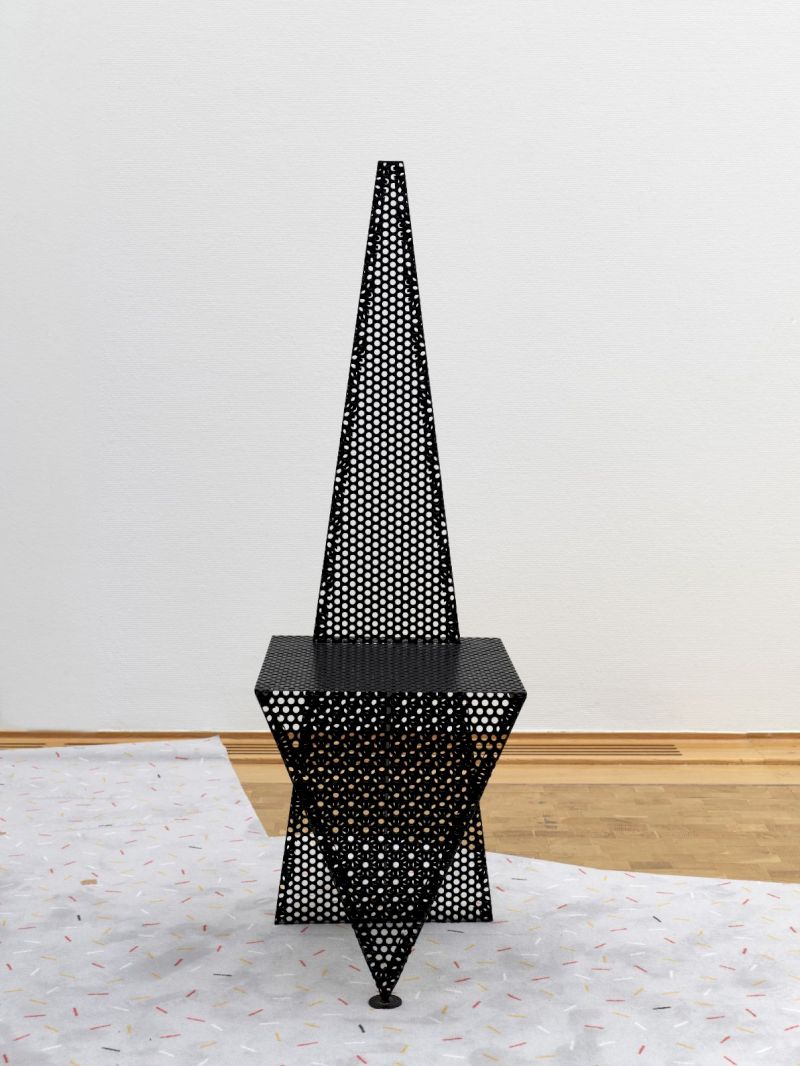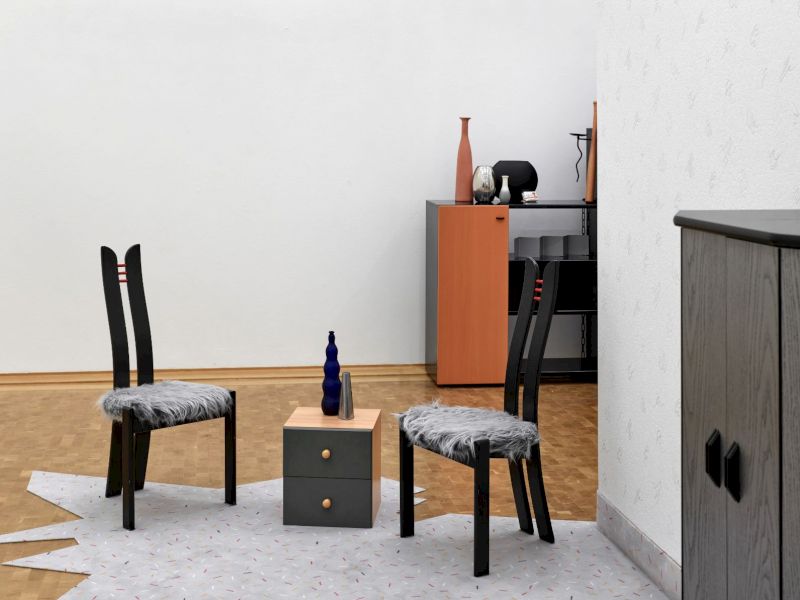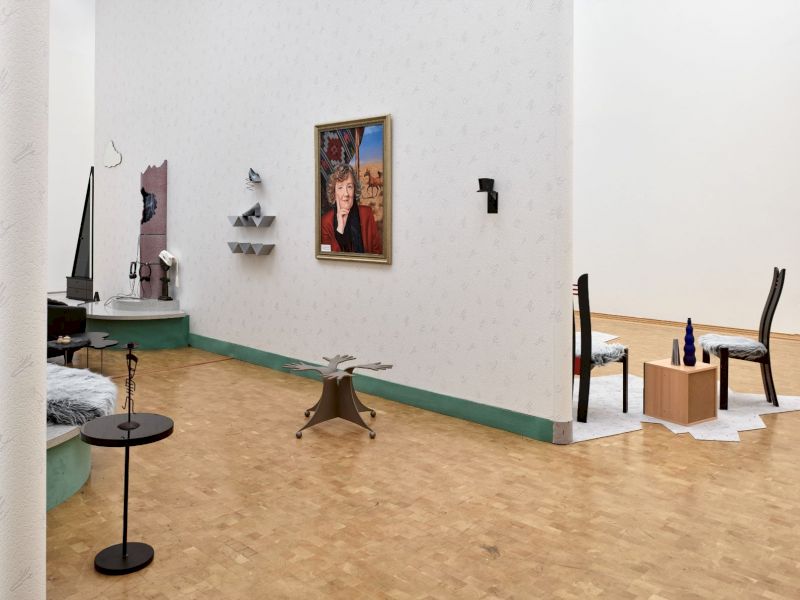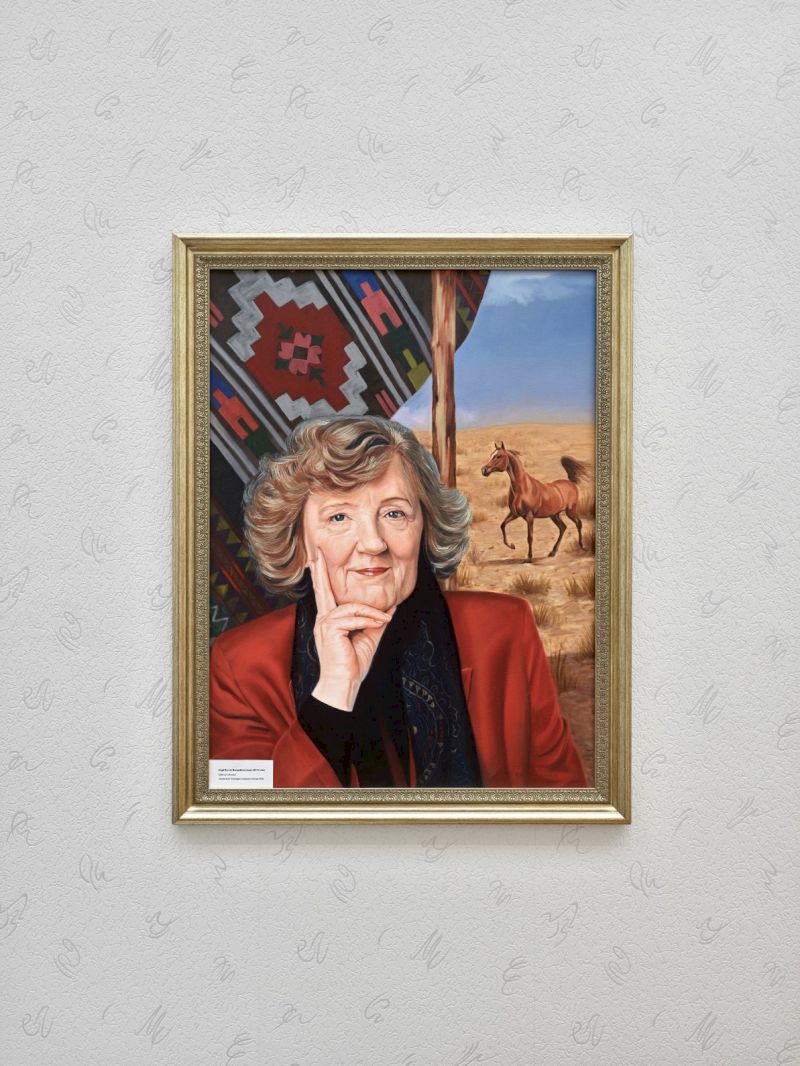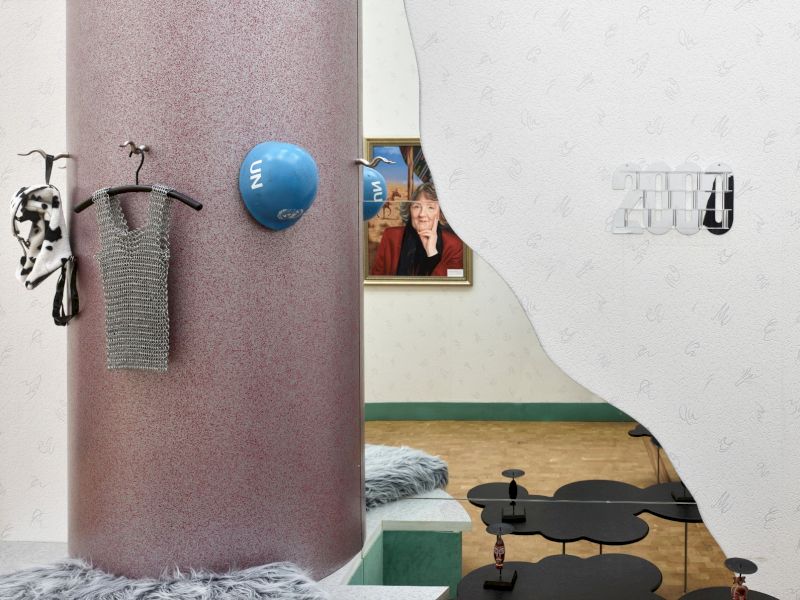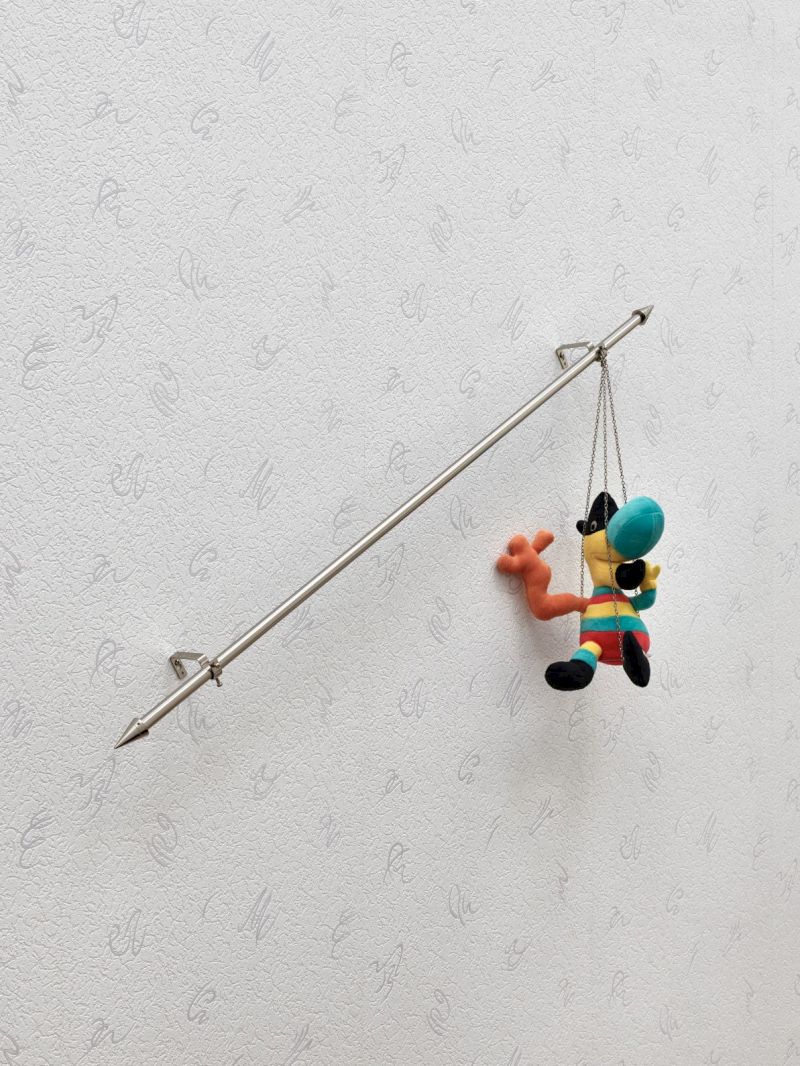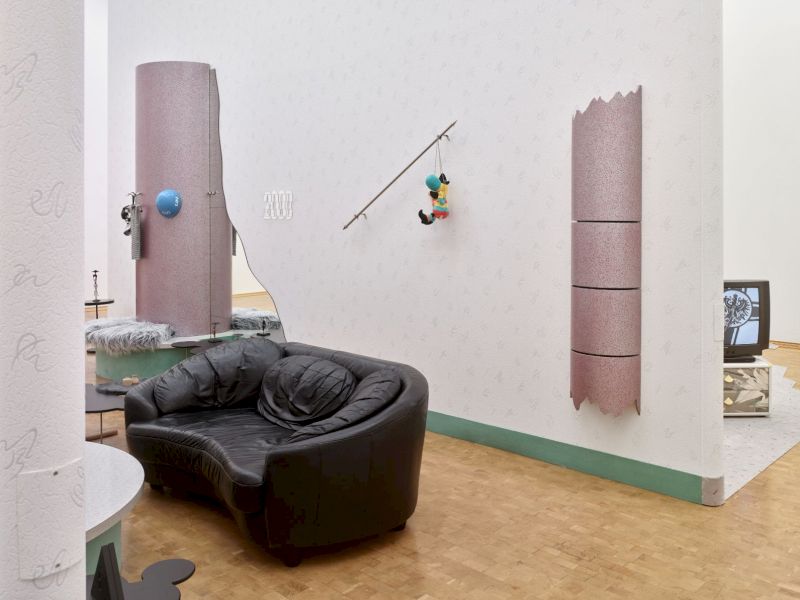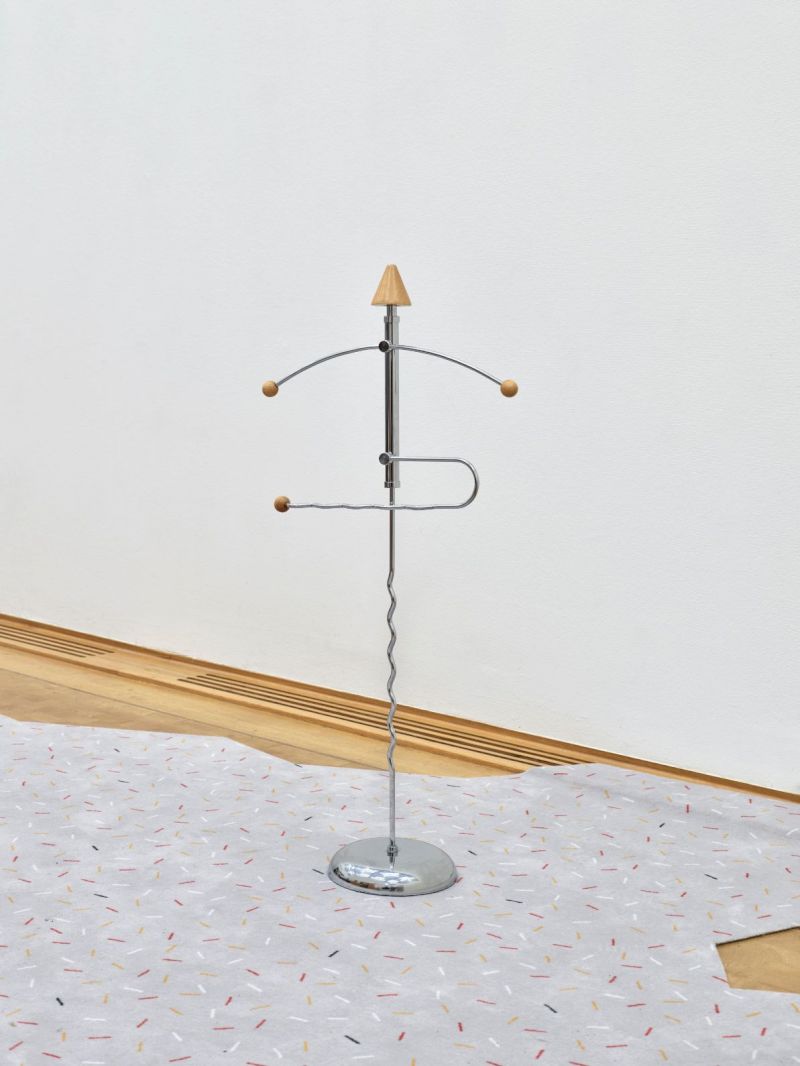 Mixed media installation (consisting of various furniture, various props, video,color, sound), 15:34 min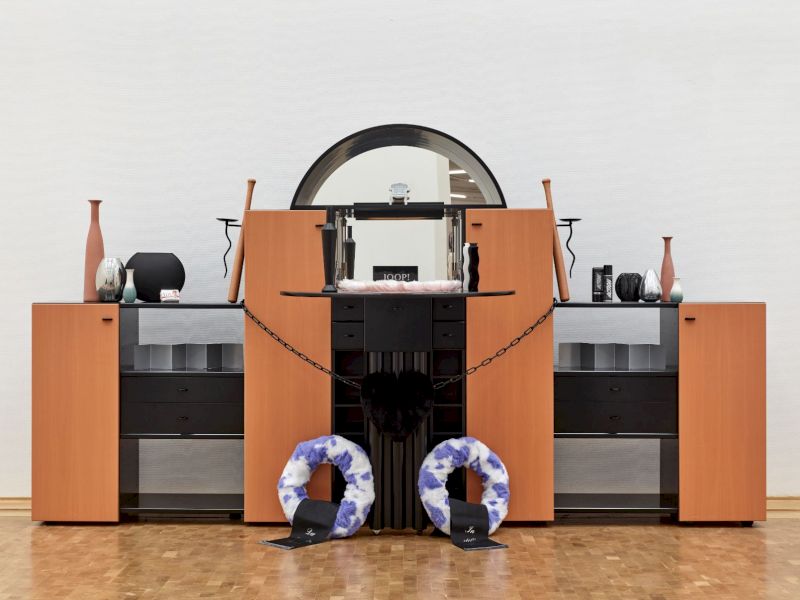 Mixed media installation (consisting of various furniture, various props)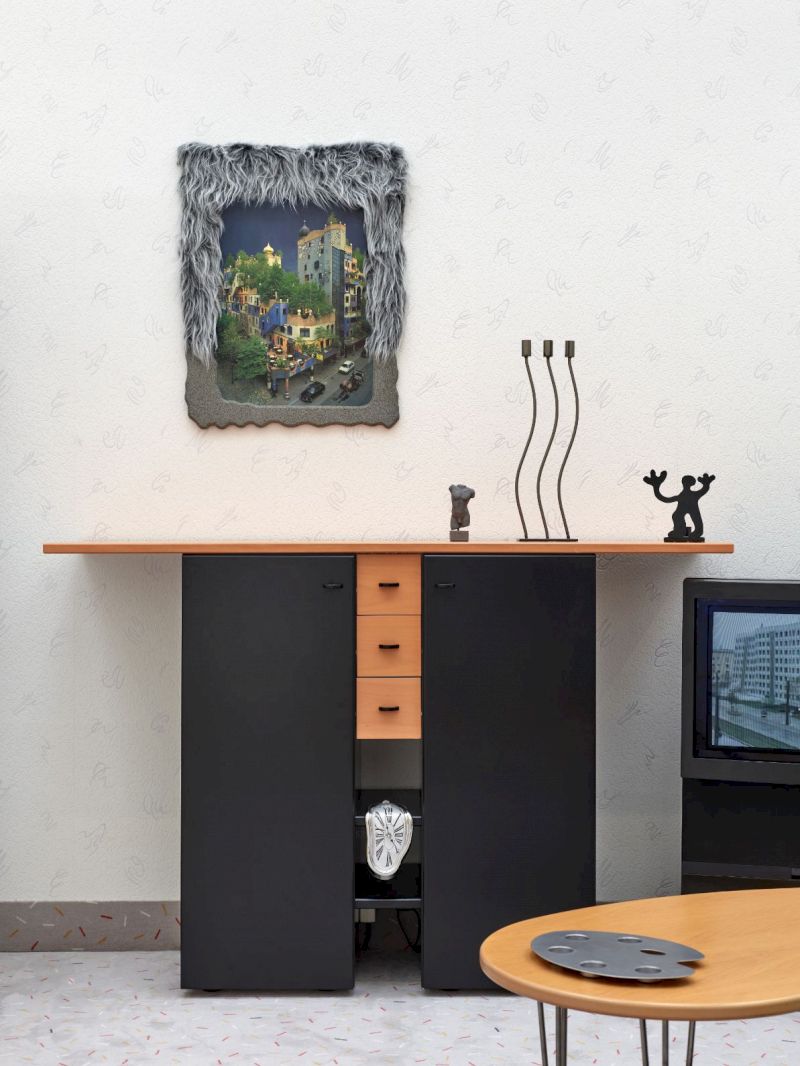 Mixed media installation (consisting of various furniture, various props, video,color, sound), 0:19 min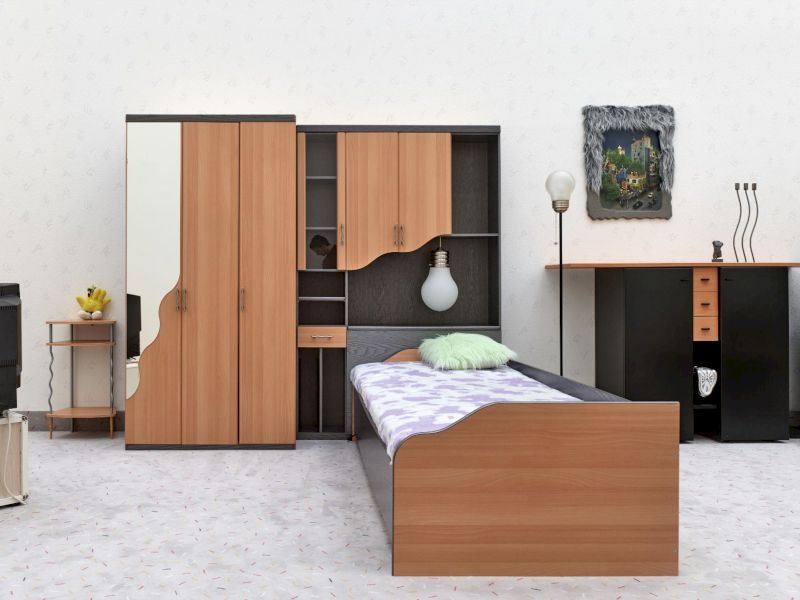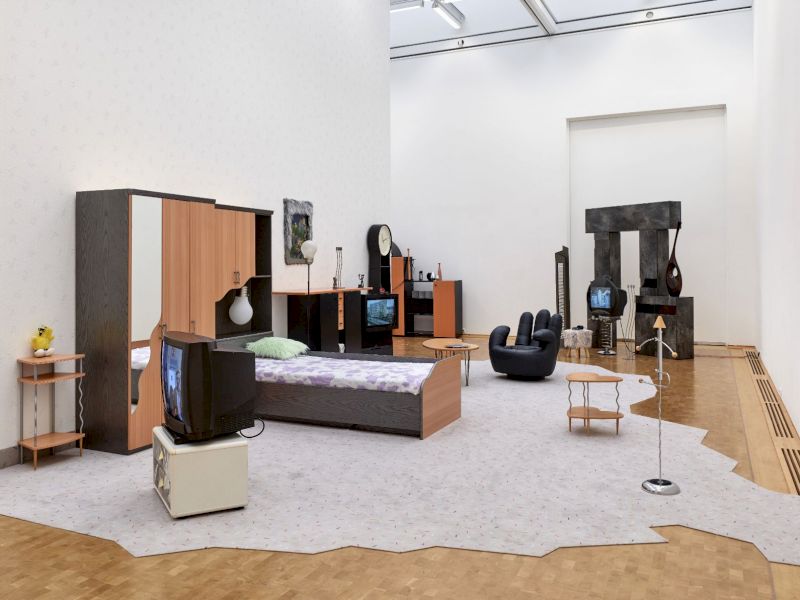 Mixed media installation (consisting of various furniture, various props)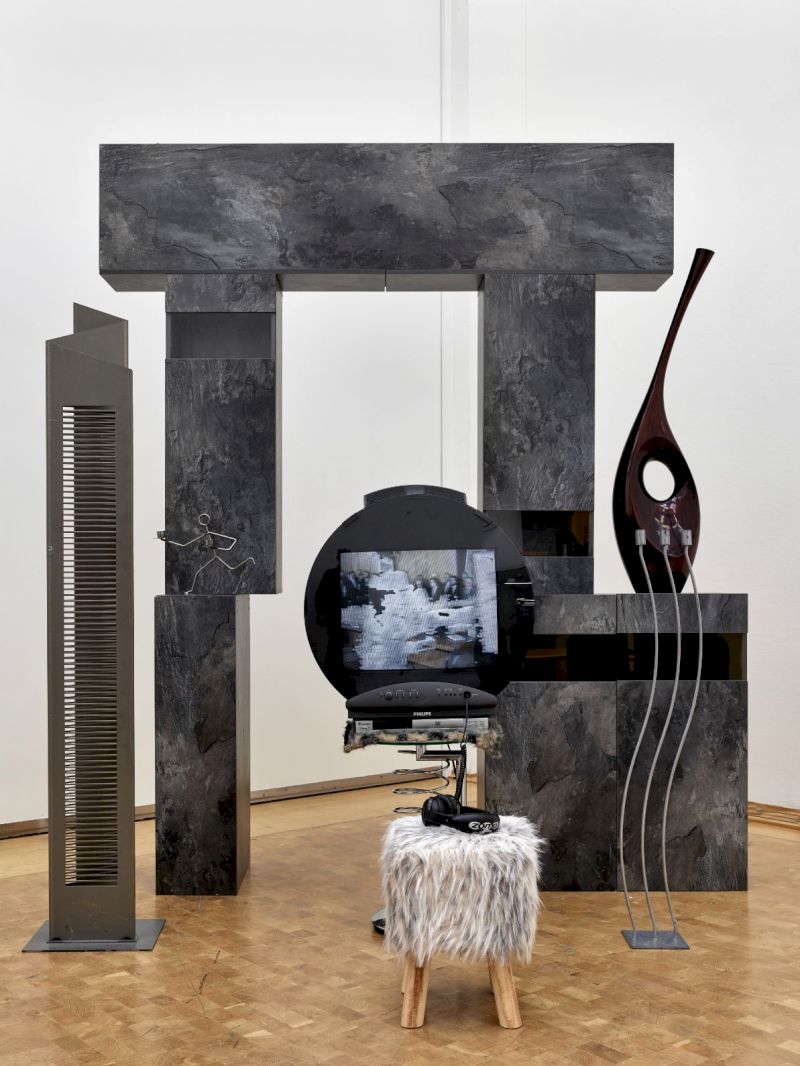 Mixed media installation (consisting of various furniture, various props, video,4:3, color, sound), 13:21 min
Exhibition views and text: Museum Abteiberg, photos: Achim Kukulies, Düsseldorf
Henrike Naumann
Henrike Naumann was born 1984 in Zwickau (GDR). Growing up in Eastern Germany, Naumann experienced extreme-right ideology as a predominant youth culture in the 90s. Her work reflects on the history of the right-wing terrorism in Germany as well as on today's broad acceptance of racist ideas. She looks at the mechanisms of radicalization and how they are linked to personal experience and youth culture. Naumann explores the friction of contrary political opinion through the ambivalence of personal aesthetic taste. In her immersive installations she combines video and sound with scenographic spaces. In recent years she widened her focus to the global connectivity of youth cultures and the reversion of cultural othering. Notable exhibitions include solo shows at the Belvedere 21 in Vienna, Kunsthaus Dahlem in Berlin, Museum Abteiberg in Mönchengladbach and Galerie Wedding, Berlin, as well as participations at the Busan Biennale (2018), Riga Biennial (2018), Steirischer Herbst, Graz (2018), 4th Ghetto Biennale at Port-Au-Prince (2015), and the 3rd Herbstsalon at Maxim Gorki Theatre Berlin (2017).
Henrike Naumann lives and works in Berlin.