Ostalgie, 2019
mixed media installation
Naumann's installation Ostalgie (Urgesellschaft) turns the spotlight on the materiality of anthropological narratives and reactionary social models. East German everyday objects mingle with cartoonish furniture for a Flintstonesque "neo-Paleolithic" (Markues). Naumann's work inquires into the abiding appeal of utopias that promise to reduce the complexity of contemporary life and beckon with the construction of an ostensibly simple past. Sexual, racial, and social structures that are unmistakably steeped in violence and raw power are the intellectual constants of this imaginary "retrotopia" (Zygmunt Bauman). The ground that no longer holds firm becomes the wall.
Naumanns Installation Ostalgie (Urgesellschaft) nimmt die Materialität anthropologischer Narrative und reaktionärer Gesellschaftsentwürfe in den Blick. DDR-Alltagsobjekte vermischen sich mit cartooneskem Mobiliar zu einer flintstonehaften "Neosteinzeit" (Markues). Naumanns Arbeit fragt nach der Anziehungskraft von Utopien, deren Versprechen darin liegt, die Komplexität der Gegenwart zu reduzieren und eine vermeintlich einfache Vergangenheit zu konstruieren. Eindeutig mit Gewalt und Macht durchgesetzte geschlechtliche, rassische, soziale Ordnungen bilden die gedanklichen Konstanten dieses imaginierten "Retrotopia" (Zygmunt Bauman). Wenn der Boden nicht mehr trägt, wird er zur Wand.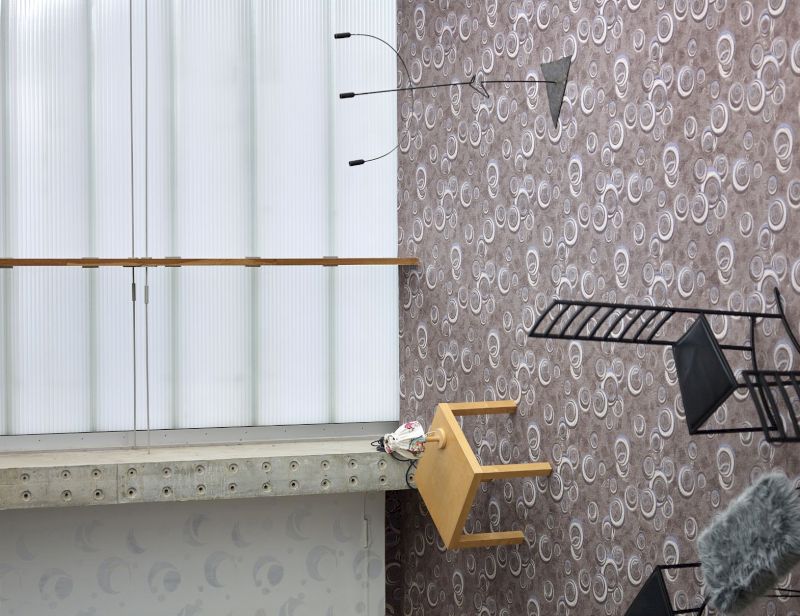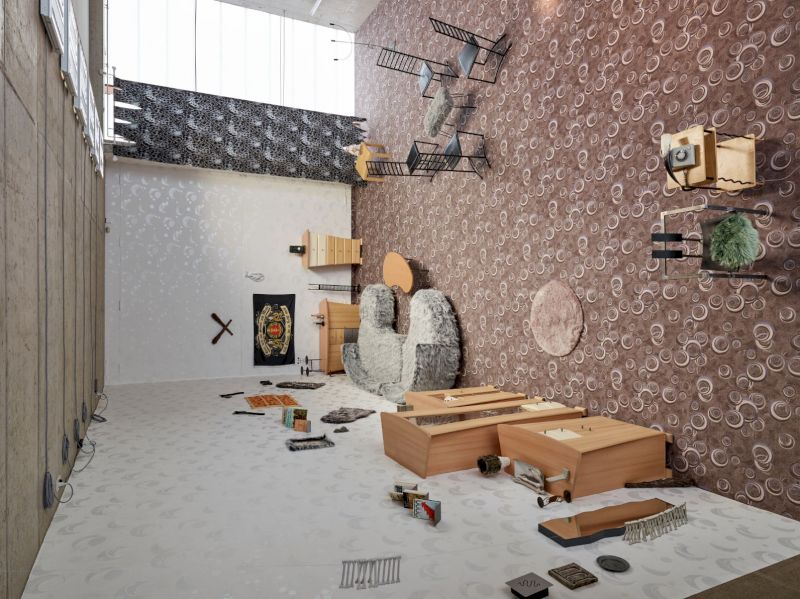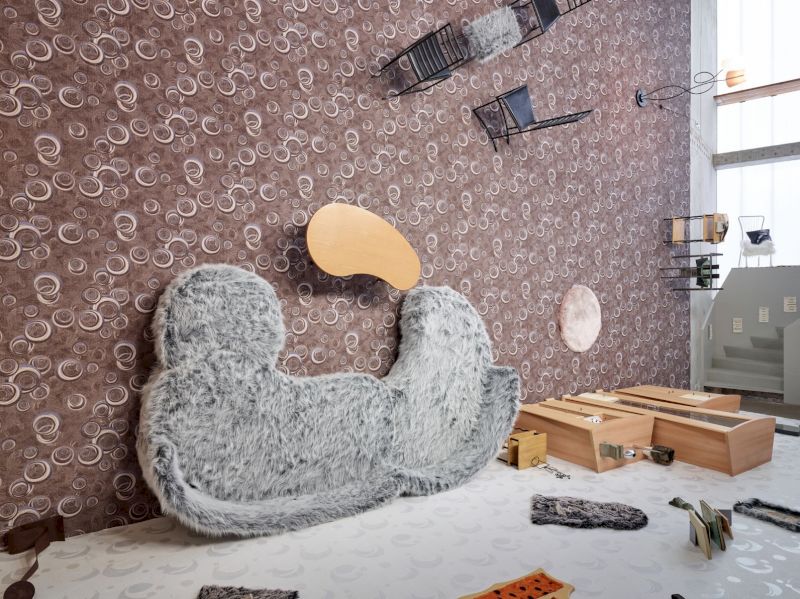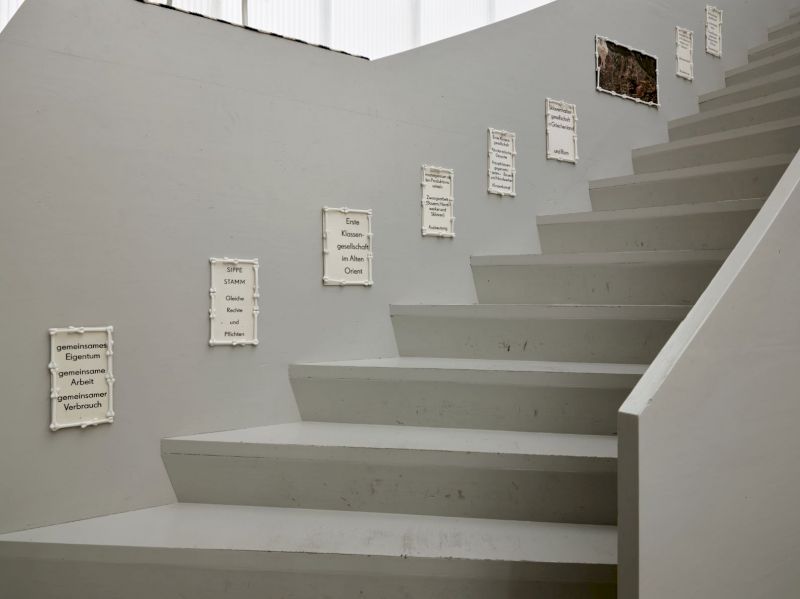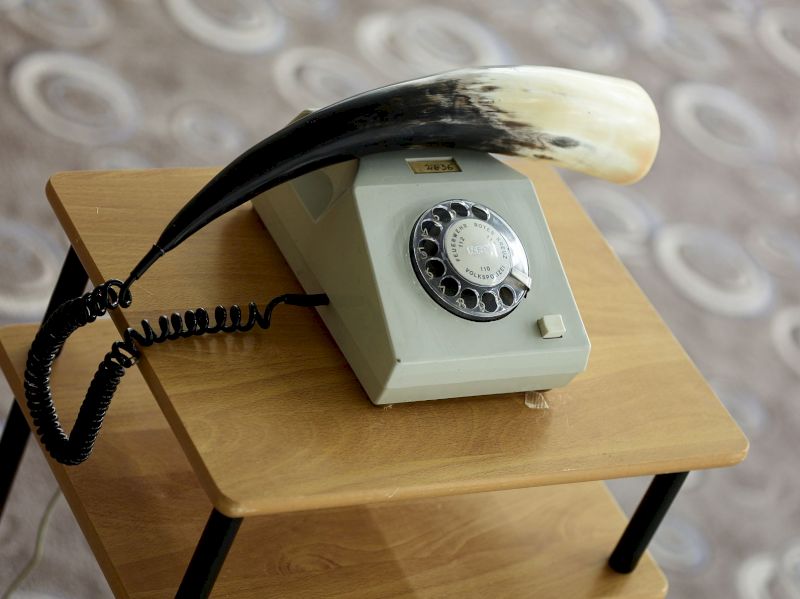 Mixed media (Teppichboden 'Donau', Vliestapete 'Kreise', Möbel, Objekte, Plastikknochen, DDR-Unterrichtsmaterial zur Sklavenhaltergesellschaft, Leuchtstofflampen Skonto-Markt Zwickau/Sachsen)
photo: Ladislav Zajac
Henrike Naumann
Henrike Naumann was born 1984 in Zwickau (GDR). Growing up in Eastern Germany, Naumann experienced extreme-right ideology as a predominant youth culture in the 90s. Her work reflects on the history of the right-wing terrorism in Germany as well as on today's broad acceptance of racist ideas. She looks at the mechanisms of radicalization and how they are linked to personal experience and youth culture. Naumann explores the friction of contrary political opinion through the ambivalence of personal aesthetic taste. In her immersive installations she combines video and sound with scenographic spaces. In recent years she widened her focus to the global connectivity of youth cultures and the reversion of cultural othering. Notable exhibitions include solo shows at the Belvedere 21 in Vienna, Kunsthaus Dahlem in Berlin, Museum Abteiberg in Mönchengladbach and Galerie Wedding, Berlin, as well as participations at the Busan Biennale (2018), Riga Biennial (2018), Steirischer Herbst, Graz (2018), 4th Ghetto Biennale at Port-Au-Prince (2015), and the 3rd Herbstsalon at Maxim Gorki Theatre Berlin (2017).
Henrike Naumann lives and works in Berlin.