Ruinenwert, 2019
mixed media installation
The installations by Henrike Naumann rely upon the suggestive power of used items of furniture and home decoration. Many of her works thus far examine the complexity of Germany's recent post and the new rise of right-wing ideology, which is subsequently accompanied by questions of belonging, iden­tity, and its uncertainty. For the Haus der Kunst, Naumann has developed a spatial installation entitled Ruinenwert. The work refers to the architecture of Hitler's Berghof residence on Obersalzberg which, like the former 'Haus der Deutschen Kunst' ('House of German Art'), was a representative building designed by Gerdy Troost for the National Socialists. We enter the installation through a replica of the fireplace of Berghof's 'Great Hall.' Even the hall's monumental re­tractable window, which provided impressive views of the surrounding mountains, is cited by the artist. Yet, Naumann has replaced the panorama of the Alps with the contours of an ensemble of used fur­niture from the 1990s, augmented by blue objects. These objects allude to the first film, The Blue Light by the controversial film director Leni Riefenstahl, who later made propaganda films for the Nazi government. With Ruinenwert, traces of the fascist architecture of the National Socialists coincide with fragmentary details, furniture and decorations, of the original interior of the museum. The minutely detailed room, which also references the Deutsche Architektur- und Kunsthandwerk-Ausstellung (German Architecture and Applied Arts Exhibition), which took place at 'Haus der Deutschen Kunst' during the Nazi era, impressively demonstrates how political ideologies and power structures manifest themselves in design, decoration, and interior furnishings.
Presented in a curved silver frame, the video work Brecher addresses the way in which the Nazis developed mythological images and aesthetics. The title itself recalls a public debate, several months ago, about an expressionist painting of the same name by Emil Nolde - a self-confessed Nazi sympathizer - which until recently hung in the office of Chancellor Angela Merkel. The video shows a fur blowing in the wind, which can be seen as a reference to the motif of the Nolde painting. Accompanying this image are illustrations of the procession planned for the opening ceremonies of 'Haus der Deutschen Kunst,' slowly captured by the camera as miniature furniture and objects, which can also be found in the installation, are carried through the picture by small figures. In addition, the "Song of Barbarossa," com­posed by Friedrich Silcher, plays in the background. What at first sounds like a choir is a collage of several recordings edited together of a single voice, whereby this formal intervention critically alludes to the supposed unity of "Volk" (people) and "Führer" (leader) claimed by Nazi ideology.
Henrike Naumann macht sich die sug­gestive Kraft gebrauchter Möbel und Einrichtungsgegenstände zu eigen. Viele ihrer bisherigen Arbeiten thematisieren die Komplexität deutsch-deutscher Geschichte und das Aufkeimen neuer rechter Be­wegungen, an das sich Fragen von Zugehörigkeit, Identität und deren Verunsicherung unmittelbar anschließen. Für das Haus der Kunst hat sie die neue Rauminstallation Ruinenwert entwickelt. Ruinenwertzitiert die Architektur von Hitlers Berghof am Obersalzberg, der wie das ehemalige ,Haus der Deutschen Kunst' ein Repräsentationsbau der Nationalsozialisten war und von Gerdy Troost gestaltet wurde. Betreten wird die Installation durch eine Nachbildung des Kamins der ,Großen Halle' des Berghofs. Auch das versenkbare Monumental­fenster der ,Großen Halle', das dort den Blick auf ein beeindruckendes Bergpanorama freigab, wird von der Künstlerin zitiert: Anstelle der Alpen blickt man in Naumanns Installation auf die Silhouette ausrangierter Möbel aus den 1990er-Jahren, die mit blauen Gegen­ständen angereichert sind. Die Künstlerin spielt hier unter anderem auf Das blaue Licht an, den Titel des ersten Films der umstrittenen Regisseurin Leni Riefenstahl, die später Propagandafilme im Auf­trag der NS-Regierung realisierte. In Ruinenwert fallen die Spuren der faschistischen Architektur mit Möbeln und Einrichtungsgegen­ständen der ursprünglichen Inneneinrichtung des Museums zusam­men. Der minutiös gestaltete Raum, der unter anderem auch die ,Deutsche Architektur- und Kunsthandwerk-Ausstellung' aufgreift, die während der NS-Zeit im ,Haus der Deutschen Kunst' stattfand, führt auf beeindruckende Weise vor Augen, wie sich politische Ideologien und Machtstrukturen in Design, Dekoration und Inneneinrichtung manifestieren.

Die in einem geschwungenen silbernen Rahmen präsentierte Video­arbeit Brecher thematisiert nationalsozialistische Mythenbildung und Ästhetik. Der Titel ruft die vor einigen Monaten in den Medien geführte Debatte um das gleichnamige expressionistische Gemälde des bekennenden Nationalsozialisten Emil Nolde auf, das bis vor kurzem im Büro der Kanzlerin Angela Merkel hing. Das Video zeigt ein im Wind bewegtes Fell, das als Anspielung auf das Motiv des Nolde–Gemäldes gelesen werden kann. Während die Illustration des Fest­zugs, der zu den Eröffnungsfeierlichkeiten des ,Haus der Deutschen Kunst' geplant war, langsam von der Kamera abgefahren wird, werden von kleinen Figuren Miniaturmöbel und Objekte durch das Bild getragen, die sich auch in der Installation wiederfinden. Dazu ist das Barbarossalied, komponiert von Friedrich Silcher, zu hören. Was klingt wie ein Chor, ist in Wirklichkeit der Zusammenschnitt mehrerer Aufnahmen einer einzelnen Stimme, wobei dieser Eingriff nicht zuletzt kritisch auf die in der NS-Ideologie behauptete Einheit von "Volk" und "Führer" anspielt.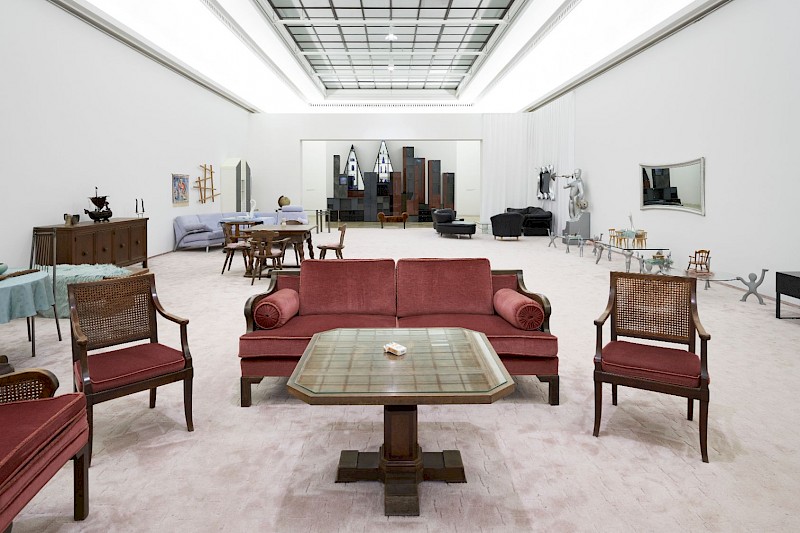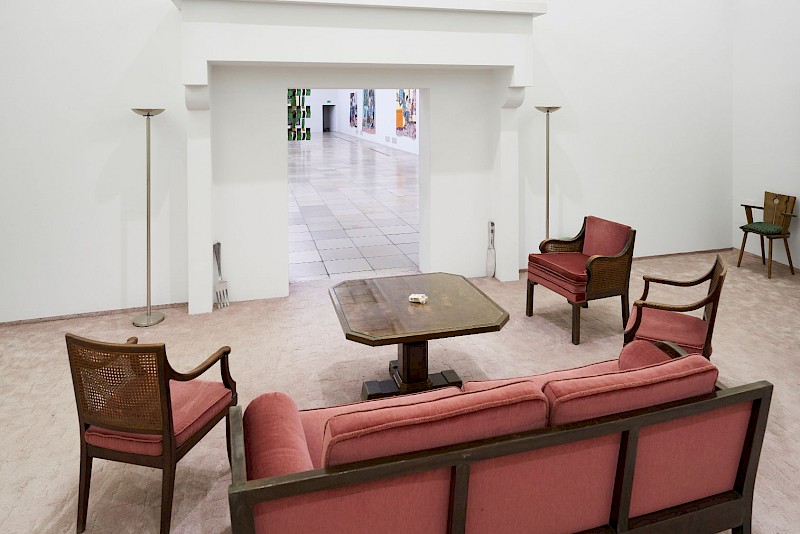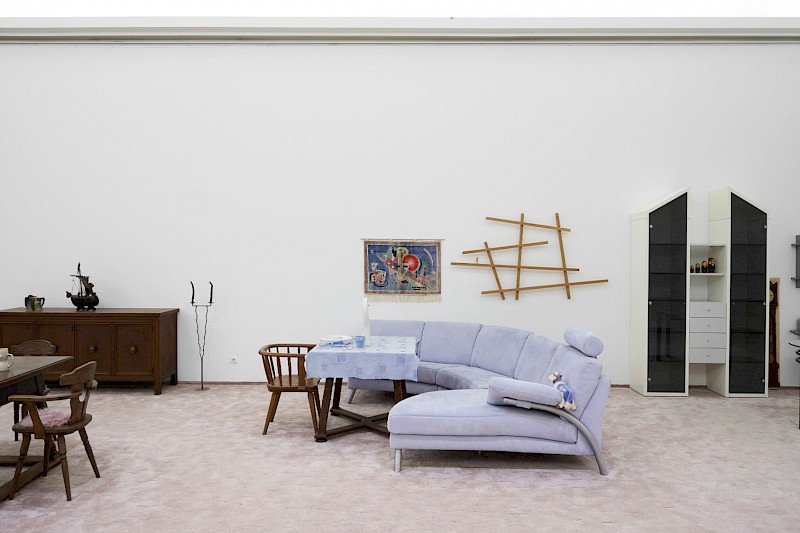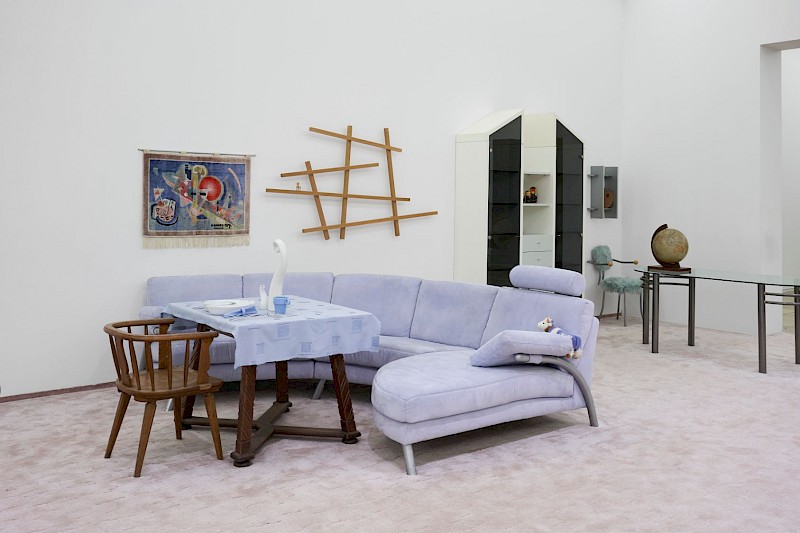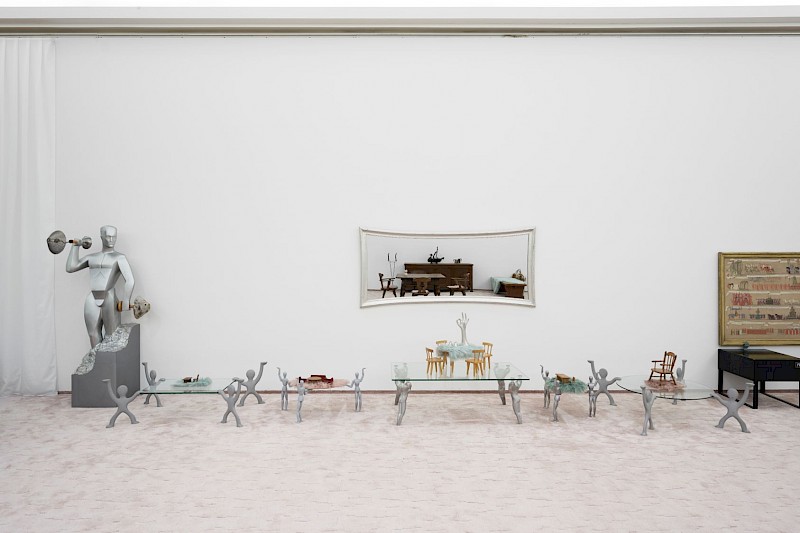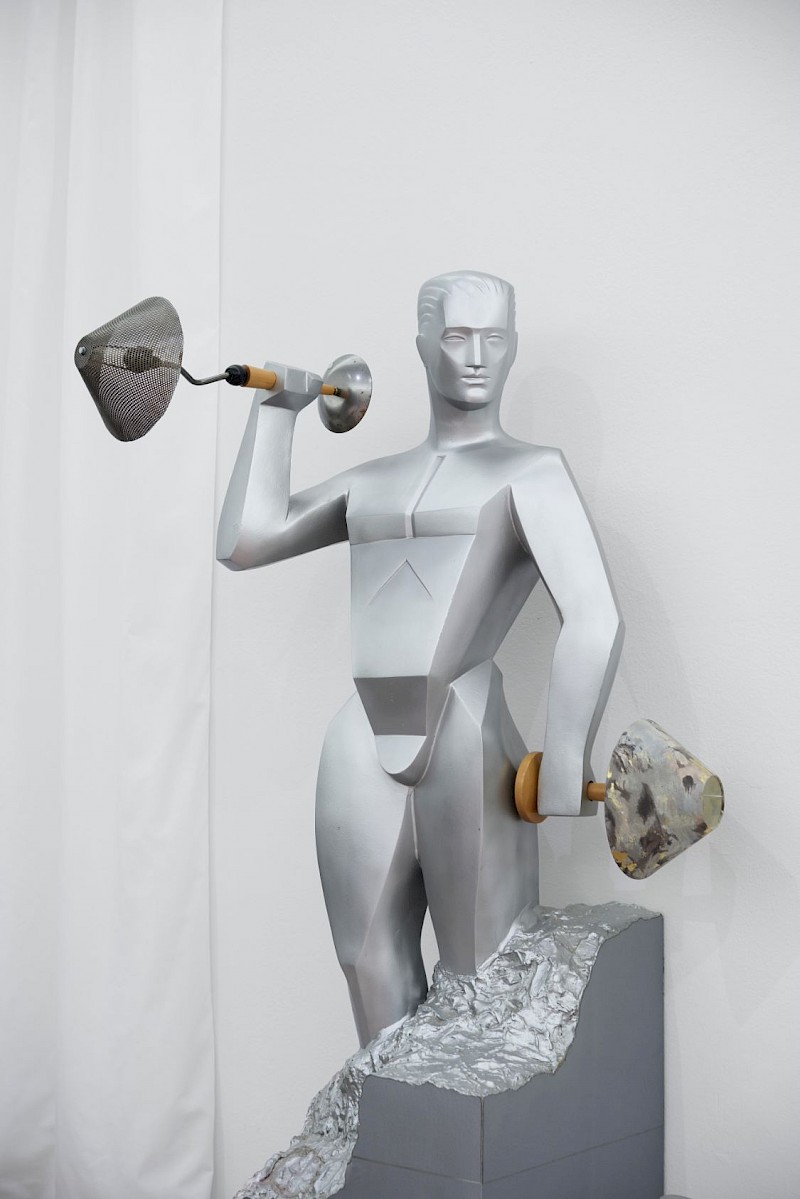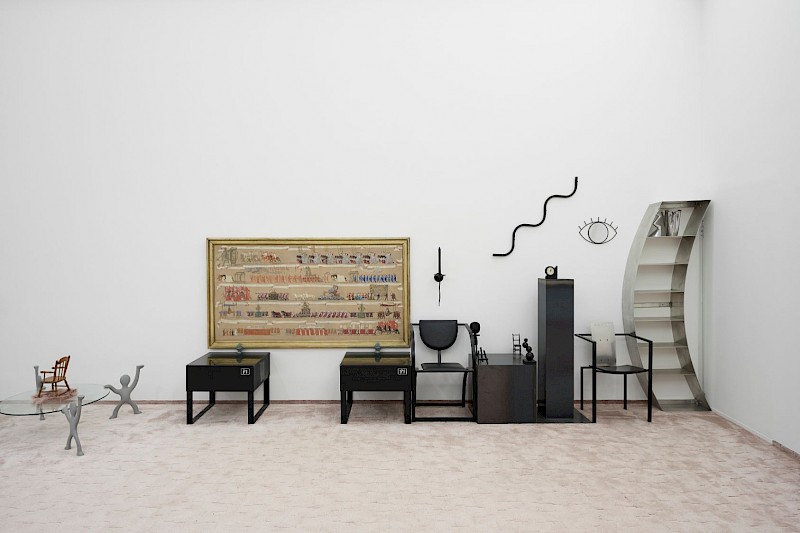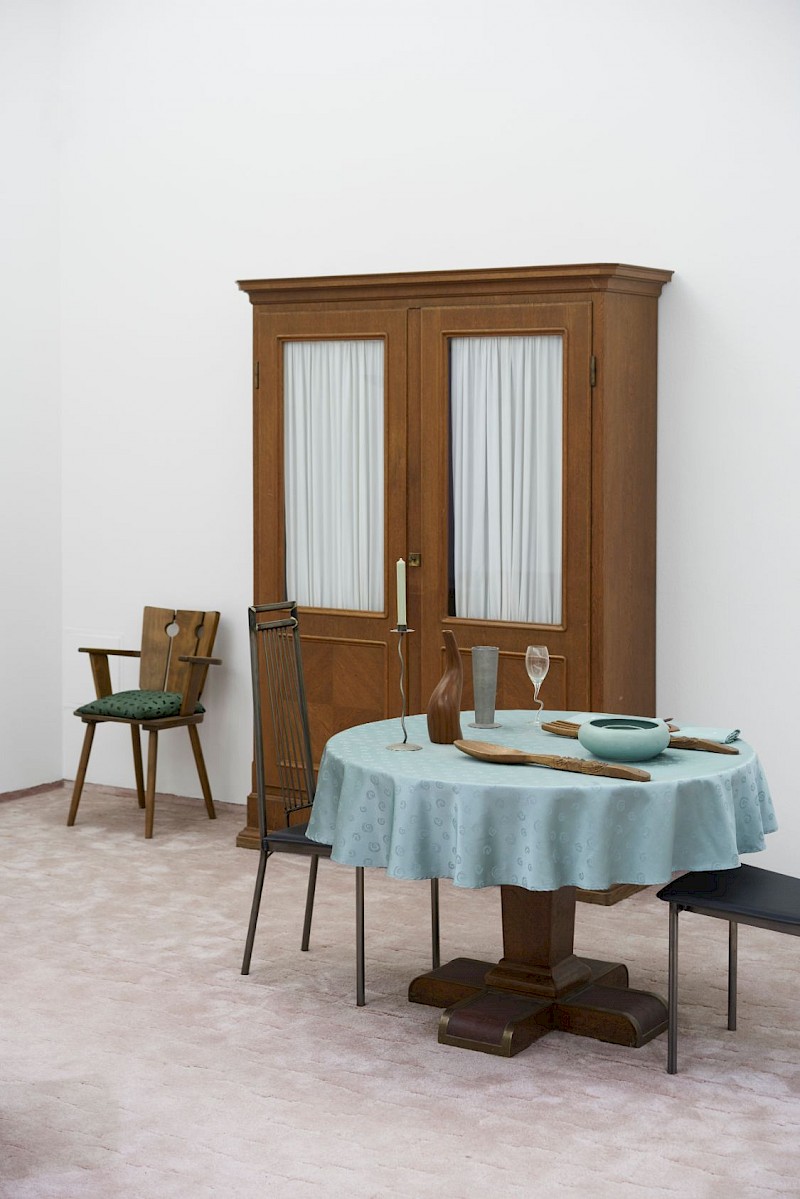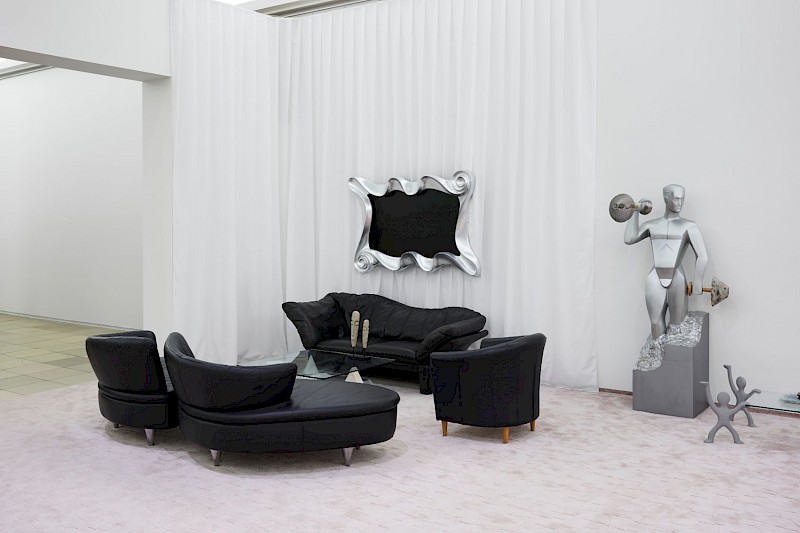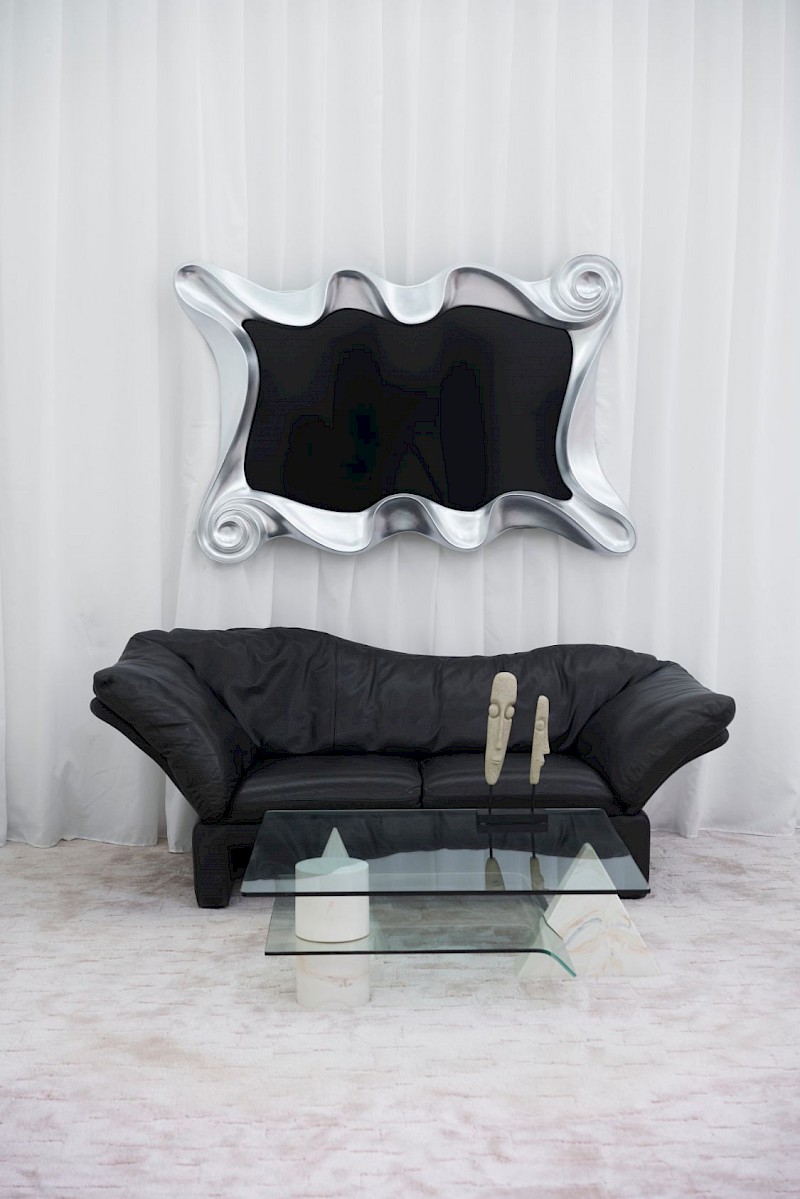 Ruinenwert, 2019
Mixed-Media-Installation
"Donau" carpet, furniture of Haus der Deutschen Kunst (1937) designed by Atelier Troost, secondhand furniture from Munich's households, household objects, miniature furniture
commissioned by the Haus der Kunst for the occasion of the exhibition
Brecher, 2019
Digital video in neo-baroque frame, sound
Voice and Sound design: Bastian Hagedorn
Editing: Fritz Schiffers
Studio: Carlo Bernhardt, Nik Mantilla, Christin Rothe, Lara Wehrs
'Der alte Barbarossa' (T: Friedrich Rückert, M: Friedrich Silcher)
Commissioned by the Haus der Kunst for the occasion of the exhibition

Thank you to Antje Böttger
There is a catalogue with an essay on Ruinenwert by Marietta Kesting.
Photos by Ulrich Gebert
Henrike Naumann
Henrike Naumann was born 1984 in Zwickau (GDR). Growing up in Eastern Germany, Naumann experienced extreme-right ideology as a predominant youth culture in the 90s. Her work reflects on the history of the right-wing terrorism in Germany as well as on today's broad acceptance of racist ideas. She looks at the mechanisms of radicalization and how they are linked to personal experience and youth culture. Naumann explores the friction of contrary political opinion through the ambivalence of personal aesthetic taste. In her immersive installations she combines video and sound with scenographic spaces. In recent years she widened her focus to the global connectivity of youth cultures and the reversion of cultural othering. Notable exhibitions include solo shows at the Belvedere 21 in Vienna, Kunsthaus Dahlem in Berlin, Museum Abteiberg in Mönchengladbach and Galerie Wedding, Berlin, as well as participations at the Busan Biennale (2018), Riga Biennial (2018), Steirischer Herbst, Graz (2018), 4th Ghetto Biennale at Port-Au-Prince (2015), and the 3rd Herbstsalon at Maxim Gorki Theatre Berlin (2017).
Henrike Naumann lives and works in Berlin.