Labour

Opening › Feb 28, 6:00 PM
Feb 29 – Apr 30, 2020
Breitz's Labour, which was commissioned by the Neuer Berliner Kunstverein, presents a series of births captured on video, shot by the artist herself in raw documentary style. Each is presented behind an austere grey curtain, which the visitor must hold open in order to be able to view the footage.
Dafür lohnt es sich, die Kunst zu lieben: Sie macht das Unmögliche möglich, das Unerdenkliche greifbar, und sie kann dabei Amüsiertheit, Staunen und Entsetzen zugleich hervorrufen, kurz: uns ergreifen und überwältigen und anders zurücklassen, als wir zuvor waren. Candice Breitz' Werk gehört zu dieser Sorte von Kunst, die man so schnell nicht wieder vergisst. Insbesondere ihre jüngste Arbeit Labour. Das Intimste, das Schönste und das Schrecklichste, und ja, das große Ganze des sozialen Planeten, einschließlich seiner aktuellen Despoten und Dämonen, sie kommen in diesem Werk zusammen.
Framed by a fictional 'Matricial Decree'—which outlines an absurdly ambitious feminist agenda— Breitz effectively re-imagines the embodied power that flows through mothers at the moment of giving birth as a resource that can be tapped for other purposes, such as the visceral elimination of authoritarian leaders who are known to have exercised their authority to rewind reproductive justice, or to do harm to the bodily autonomy of women and others.
Labour quickly veers off the documentary path: Rather than re-presenting each birth as it would have unfolded before her camera, Breitz invites us to experience the series of births in reverse. We watch as each newborn is swept out of its mother's arms, only to be slowly and surreally sucked back into the womb. In addition to the 'Decree' that accompanies the body of work—as issued by the Secular Council of the Utopian Matriarchat (a government body that refers to itself, in abbreviation, as S.C.U.M.)—the titles of the individual installations in the series offer a possible explanation for these rituals of reversal. The first piece in the series, titled Labour (PMURT), was shot in the week that Donald Trump was inaugurated as president in January 2017. A second work is titled Labour (NITUP), while the third and fourth installations in the exhibition are titled Labour (ORANOSLOB) and Labour (MIK).
Some will find dark humour in Breitz's proposal, which is as disturbingly dystopian as it is earnestly utopian. Her targets in this debut presentation of the work—Trump, Putin, Bolsonaro and Kim— have, each in his own way, committed to violent discourse or legislation around questions of reproduction and/or abortion. As we witness a series of 'Elite Reversal Agents' doing the labour that is required to extract these tyrants from existence, Labour seems to suggest—almost biblically—that the best approach to dealing with those who seek to curtail our bodily autonomy is to subject them to preposterously late-term abortion. This is speculative fiction combined with a feminism that is simultaneously tongue-in-cheek and dead serious.
According to the 'Matricial Decree,' additional Reversal Agents are being sought 'to commit to high priority recalls in the months to come.' If leaks from the artist's studio can be trusted, the undoing of Modi, Erdoğan, Duterte, Orbán and Assad may be imminent.
Man muss es kurz beschreiben: An den Wänden der Galerie bilden vier graue Vorhänge enge Kabinen, die man nur alleine betreten kann. Dort steht man in unmittelbarer Nähe vor einem Monitor und sieht, in intimer Konfrontation, einer Szene zu, die man selten sieht: den Prozess einer Geburt. Ungeschminkt und ungekürzt von oben gefilmt, so derb und unchoreografiert, wie die Wirklichkeit nun einmal ist: die letzten, starken Wehen, der Ausfluss der geplatzten Fruchtblase, den Austritt des Kopfes, der Schultern, schließlich des ganzen kleinen, blutigen Körpers. Die helfenden Hände der Hebamme. Das Durchtrennen der Nabelschnur. Den ersten Kontakt zwischen Mutter und Kind, die zärtliche Nähe der ersten Berührung nach getaner Arbeit.
Indes: Nicht das sieht man, sondern etwas Anderes. Denn Candice Breitz spielt die vier Geburtsszenen auf den Monitoren rückwärts ab. Sie beginnen mit einer letzten Liebkosung, bevor der kleine Mensch an die Nabelschnur angeschlossen wird und mehr oder weniger abrupt im Mutterleib verwindet, als würde er von ihm aufgesogen, bis der Mutterbauch prall und rundlich gefüllt ist und das Kind – weg. Schnitt. Vor schwarzem Hintergrund scheinen schnelle weiße Buchstaben über den Monitor, begleitet von dem Sound des Herzschlags eines noch ungeborenen – oder nun zurückgenommenen? – Babys: M-I-K, in einer anderen Kabine: N-I-T-U-P, woanders: P-M-U-R-T. Unschwer erkennbar, es sind die rückwärts buchstabierten Namen der Tyrannen des frühen 21. Jahrhunderts, der Diktatoren, Populisten und Faschisten, von denen es neuerdings immer mehr gibt. Kim, Putin, Trump, Bolsonaro. Wenn man Gerüchten aus Breitz' Studio trauen kann, wird sich der Personenkreis und damit die Anzahl der Werke in der Serie Labour noch erweitern: Modi, Erdoğan, Duterte, Orbán, Assad, … wo soll man aufhören?
Das alles sieht man und versteht man im Zusammenhang mit dem zentralen Element von Breitz' Installation, einem groß plakatierten Manifest, überschrieben mit MATRICIAL DECREE und unterschrieben mit YOUR MATRIARCHAT. Der Text folgt stilistisch dem Genre historischer Pamphlete und Manifeste oder staatlicher Verordnungen, gewendet in den futuristischen Tonfall einer Science-Fiction-Vision. Er spricht die Sprache einer unbekannten Autorität – die jedoch nur insofern unbekannt ist, als wir sie (noch) nicht kennen: Es ist die Sprache der Mütter, die sich, in alter Tradition, der edlen Aufgabe der Geburt und der Aufzucht neuen Lebens widmen, der Arbeit an der Menschengesellschaft von morgen.
Dem Matriarchat, so lesen wir in dem Dekret, kommt die Verantwortung zu, Leben zu schenken, aber auch, und dies nur im äußersten Ausnahmefall, es wieder zu nehmen. "Irreparabel dysfunktionales" Verhalten, das die Interessen und die Existenz der Menschengemeinschaft bedroht, durch Sexismus, Rassismus und Gewalt, wird das Matriarchat nicht tolerieren und schlimmstenfalls zur äußersten Maßnahme greifen und ein Menschleben wieder zurücknehmen, das einst gegeben wurde, wenn es sich über jede moralische Übereinkunft erhebt und sie bekämpft. Breitz stellt hier der größten Macht des Menschen, dem Gebären neuen Lebens, die politische Macht zur Seite, den Akt der Geburt zu revidieren, und weitet die soziale Arbeit und Verantwortung der Erziehung und Versorgung der nächsten Generationen auf die Befugnis aus, Notfallmaßnahmen einzuleiten, wenn wir in Gefahr geraten.
Denn natürlich sind wir in Gefahr, zumindest viele von uns Menschen, und niemand weiß, wie man die politischen Gefährder entschärfen kann, die wachsende Teile des Planeten beherrschen und ruinieren.
Denn natürlich sind wir in Gefahr, zumindest viele von uns Menschen, und niemand weiß, wie man die politischen Gefährder entschärfen kann, die wachsende Teile des Planeten beherrschen und ruinieren. Breitz greift in dieser zum Verzweifeln gefährlichen Situation zu drastischen Mitteln, indem sie ein Werk entwirft, dass eine utopische Forderung aufwirft und einen unmöglichen Weg zeigt, diese Menschen, fast immer Männer, patriarchale Gestalten, wieder loszuwerden. Menschen, die einmal geboren wurden, aber die der gesunde Menschenverstand nicht eingeladen hat, die der demokratischen Kontrolle Schnippchen schlagen, denen Institutionen nicht mehr beikommen, und die, in einem kurzen Wort, nur eines tun: schaden.
Es ist kein Aufruf zum Mord. Breitz geht nicht den Weg des Terrors, der Auslöschung von Leben, das die Menschenrechte zum Glück schützen. Und sie ruft gerade nicht zu Wut und Hass auf. Sie entwirft ein ungekanntes, ein kaum denkbares, fiktionales Gegenmodell, um ihrem Uneinverständnis mit dem Lauf der Geschichte Ausdruck zu verleihen, der Desavouierung jeder Idee von Gleichheit, Fairness und Solidarität. So wirklich die Tatsache ist, dass es einstweilen die Frauen sind, und in der Zukunft vielleicht nicht mehr sie allein, die die reproduktive Arbeit des Menschengeschlechts auf dem Planeten bestellen, so wirklich wird in Breitz' irgendwie humorigem, in Wahrheit erschütterndem und uns Staunen machendem Projekt die Möglichkeit, dass diese Macht des Gebens auch eine Macht des Nehmens sein könnte, des Zurücknehmens, des Revidierens, nicht etwa aus Reue, sondern aus der gleichen sozialen Verantwortung, die auch schon die Geburt implizierte.
Wir stehen vor keinem Mord und keiner Auslöschung. Auch nicht vor einer Abtreibung, für die Frauen permanent verurteilt, bestraft und exekutiert werden, eben weil man ihren Körper vergesellschaftet und, je nach Regime, entsprechend richtet. Nein, was wir stattdessen sehen, ist eine Zurücknahme. Eine Gegen-Geburt. Als eine Gabe zum Wohle aller. Sie vollzieht sich vor unseren Augen mit der Hinwendung und Zärtlichkeit, die Mütter und Väter den ersten Sekunden eines neuen Lebens üblicherweise entgegenbringen, und beschreitet nun mit Hebammenfürsorge den umgekehrten Weg. Die Elite Reversal Agents, so sagt uns das MATRICIAL DECREE, leisten ihren hohen Dienst als Bürgerinnen, die dem Gemeinwohl dienen, um den Kreislauf des Lebens am Laufen zu halten – was in den besagten Fällen die so hehre wie schwierige Arbeit bedeutet, einige Wenige wieder hinauszuführen aus einer Gemeinschaft von Menschen, die bei aller Toleranz und Liebe nicht akzeptieren kann und will, dass ein winzig kleiner Teil ihres Nachwuchses sie zerstört.
Wir bringen, in Breitz' Arbeit gedanklich und gefühlt einmal angekommen, diese toxische Minderheit dafür nicht um. Wir halten ihren kleinen, blutigen Kopf, streicheln die zarten Lippen bei ihrem letzten Atemzug, verbinden sie mit der Schnur, die sie mit allem versorgt, was sie fürs bloße Leben braucht, und es sind die Frauen, die – noch einmal – ihren Leib geben, um für immer in sich aufzunehmen, was die Gemeinschaft nicht länger austragen kann.
Und damit ist Candice Breitz ein Coup gelungen. Sie hat mit Labour eine dezidiert feministisch-futuristische Position bezogen, die der patriarchalen Gewalt einen klugen Gegenwind entgegensetzt und neben der Würdigung der gesellschaftlichen Arbeit von Frauen auch durchaus eine Drohung enthält, die ethisch zu diskutieren sein wird und die weit mehr impliziert, als es heute schon scheinen mag. Denn das Matriarchat, das Breitz' Ausstellung symbolisch signiert, mag einstweilen eine Fiktion sein. Aber es formuliert sehr wohl eine Forderung, die man auch politisch verstehen muss. Etwas, auf das die aktuelle Gesellschaft in ihrer Männlichkeit nicht gefasst sein kann. Etwas, das vielleicht kommt. Denn noch jedes Leben eines Menschen hing davon ab, dass Frauen es wollten.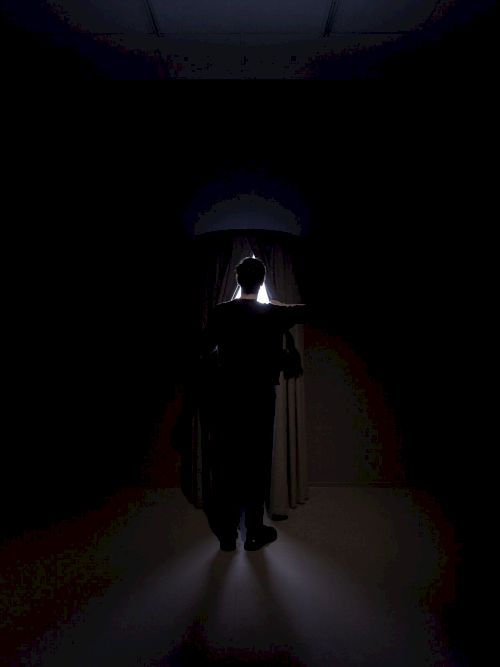 Current
Upcoming
2020
2019
2018
2017
2016
2015
2014
2013
2012
2011
2010
2009
Current
Upcoming
2020
2019
2018
2017
2016
2015
2014
2013
2012
2011
2010
2009