Antirepresentationalism 2: Trouble with Realism. Conceptual and Socially oriented Art in Leipzig 1997–2009

,

The Cabinet of Ramon Haze

,

Mario Pfeifer

,

Tina Schulz

,

Clemens von Wedemeyer

,

Tobias Zielony, Peggy Buth, Famed, Markus Dressen, Andreas Grahl, Henriette Grahnert, Eiko Grimmberg/ Arthur Zalewski, Mark Hamilton, Ramon Haze, Oliver Kossack, Claudia Annette Maier, Ulrich Polster, Julius Popp, schau-vogel-schau (Marcel Bühler, Alexander Koch), Julia Schmidt, Tilo Schulz, spector cut+paste, Christoph Weber
Oct 17 – Nov 21, 2009
ANTIREPRESENTATIONALISM takes up the proposal of the American philosopher Richard Rorty, which states that we should trade in our pursuit for truth and objectivity for our ability to empathize and devote ourselves to social advancement. Instead of worrying about whether or not our representations of reality are correct, we should be working on our sense of solidarity.
ANTIREPRESENTATIONALISM folgt dem Vorschlag des amerikanischen Philosophen Richard Rorty, wir sollten unser Streben nach Wahrheit und Objektivität eintauschen gegen die Fähigkeit zur Empathie und den Einsatz für sozialen Fortschritt. Statt uns zu sorgen, ob unsere Repräsentationen der Wirklichkeit korrekt sind, sollten wir an unserem Sinn für Solidarität arbeiten.
The first chapter of our exhibition trilogy stated that our images of the past will never be finished, since we keep on redescribing it from changing perspectives. Therefore, history is flexible. The second exhibition TROUBLE WITH REALISM demonstrates the same degree of flexibility with regards to reality.

'Realism' is synonymous with the endeavor to grasp something of the world as it really is. But, what is it really? During the Cold War, struggling for the right view of the world, the ends of the notion were pulled, until little of the concept remained. While realism served the west either as aggressor of abstraction or to approve its own objectivity, it served socialist governments to impose a 'truthful' vision for society. Even though these perceptions linger on, the political as well as the epistemological value of aesthetic realism are questionable today. Antirepresentationalists like Richard Rorty see nothing deep down on the grounds of reality, except what we have put there ourselves. For them no word, no book, no image contains more truth and comes closer to the real than any other. They are not interested whether something merely looks like something, or looks like reality really is. They are rather interested in getting to accept plural realities at a time and to eventually change one or another.
Das erste Kapitel unserer Ausstellungstrilogie argumentierte, dass unser Bild der Vergangenheit niemals fertig wird, weil wir diese aus wechselnden Perspektiven immer neu beschreiben. Geschichte ist also flexibel. Der zweite Ausstellungsteil TROUBLE WITH REALISM lässt gleiches für die Wirklichkeit gelten.

'Realismus' steht für den Versuch, etwas von der Welt einzufangen, so wie sie ist. Aber wie ist sie? Im Kalten Krieg um die richtige Weltsicht wurde am Realismus-Begriff gezogen, bis wenig davon blieb. Diente er dem Westen mal als Garant von Objektivität, mal als Feindbild der Abstraktion, nutzten ihn sozialistische Kulturapparate zur Forderung eines 'wahrheitstreuen' Gesellschaftsbildes. Auch wenn diese Auffassungen durchaus nachleben, sowohl der politische wie der erkenntnistheoretische Wert des ästhetischen Realismus sind heute fraglich. Antirepräsentationalisten wie Richard Rorty sehen tief am Grunde der Realität nichts als das, was wir selbst dort hin gelegt haben. Kein Wort, Buch oder Bild kann für sie wahrer und wirklicher sein als ein anderes. Ob etwas nur so aussieht wie es aussieht, oder so aussieht wie sie auch wirklich ist, interessiert sie weit weniger als wie man dahin kommt, möglichst viele Wirklichkeiten gelten zu lassen und die eine oder andere vielleicht zu ändern.
This art is full of conceptual cuts and disruptions. Those do not result from wrong fittings between reality and its representations, but from a decomposed understanding of shared realities.
Diese ist durchzogen von konzeptionellen Brüchen und Schnitten, die nicht daher rühren, dass Bild und Wirklichkeit auseinander fallen, sondern die soziale Verständigung über gemeinsame Wirklichkeiten.
We show artistic positions and projects which search and establish relations to the real without going with realism. Being close to reality means in their view neither faithfulness to truth nor depiction, but rather habits of perception and understanding. Habitual convictions that guide our view of the world. Convictions that give us a sense of orientation as we follow them and that make us stumble once we mistrust them. It is exactly the mistrust in well trained convictions on how and under what aim the social world is being organized and pictured that has occupied much socially oriented art in Leipzig in the second decade after the iron curtain fell. This art is full of conceptual cuts and disruptions. Those do not result from wrong fittings between reality and its representations, but from a decomposed understanding of shared realities.

The approximately 50 works we show are rich in influences. For their authors, the tradition of realism from the days of the GDR was not a model to follow. Represented by the 'Leipziger Schule' and its social criticism from the Seventies, after the wall had fallen this local style resembled more an imaginary of inner sentiments than an art with
a societal orientation.

Text and Photos: Alexander Koch
Wir zeigen künstlerische Positionen und Projekte, die Realitätsbezug suchen und herstellen, ohne Realismus zu betreiben. Wirklichkeitsnähe bedeutet für sie weder Wahrheits- noch Darstellungstreue, sondern Gepflogenheiten im Sehen und Verstehen. Eingeschliffene Überzeugungen letztlich, von denen wir uns leiten lassen, wenn wir auf die Welt schauen. Überzeugungen, die uns Orientierung geben, solange wir ihnen folgen und die uns ins Schlingern bringen, wenn wir ihnen nicht mehr trauen. Genau das Misstrauen gegenüber eintrainierten Überzeugungen aber, wie herum die Welt nun eigentlich richtig aussieht, wie und mit welchem Ziel Realitäten organisiert und bebildert werden und wie man sich ihnen gegenüber kritisch positioniert, das hat im zweiten Nachwendejahrzehnt gesellschaftlich orientierte Kunst in Leipzig beschäftigt. Diese ist durchzogen von konzeptionellen Brüchen und Schnitten, die nicht daher rühren, dass Bild und Wirklichkeit auseinander fallen, sondern die soziale Verständigung über gemeinsame Wirklichkeiten.

Die rund 50 gezeigten Werke sind reich an Einflüssen. Der speziellen Leipziger Realismus-Tradition aus DDR-Tagen, gleich wie man diese auch politisch einschätzt, folgten die gezeigten Künstlerinnen und Künstler methodisch nicht. In sofern zeigt die Ausstellung auch die Abkehr von einem lokalen Modell kritischen Gesellschaftsbezugs, das der 'Leipziger Schule' der Siebziger Jahre ihre Brisanz gab. Nach dem Mauerfall steht deren fortdauernde Bildsprache jedoch eher für eine Kunst der Innerlichkeit, nicht der sozialen Orientierung.

Text und Fotos: Alexander Koch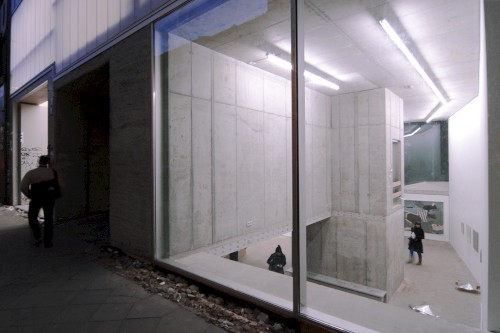 Photographies by Heji Shin: